Book Cover Concept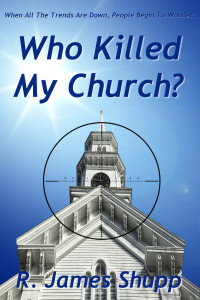 The publisher sent me a book cover concept for "Who Killed My Church?" The design was intriguing, but didn't really fit with the storyline or the message of the book. Since I dabble in graphic design, I decided to try a concept of my own. The editors loved the concept, but the publisher said, "We can do much better than this." That being the case, I'm exited about the creative process and can't wait to see what the final product will look like. Click on the picture if you would like to see it enlarged. We're nearing the end of all the work that goes into publication. Next comes the marketing phase. Anything you can do to help me spread the word would be awesome.
Trackback from your site.
james
R. James Shupp is an accidental author, pastor of the Movement Church of San Antonio, and CEO of BriarPatchConsulting.com. He specializes in helping churches thrive.