Bio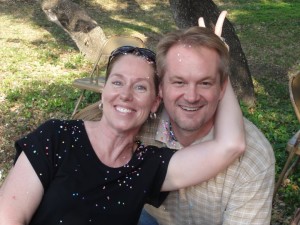 Here's a brief Bio on James Shupp. He's the CEO of BriarPatchConsulting.com whose mission is "Helping Churches Thrive." For nearly three decades, he's pastored churches in Texas and Oklahoma. Currently, he serves as the founding pastor of the Movement Church in San Antonio.
---
When James is not pastoring, writing or helping another church navigate through a tough challenge, he enjoys mountain biking and flying. He's been married to Cherry, the bride of his youth, for thirty years. They love their evening walks together, reminiscing about the two sons they raised, and making each other laugh so hard that one finally snorts.
My Spiritual Bio
I am chasing after Jesus Christ with reckless abandon. I choose to give up all worldly pleasures and hopes of personal gain simply to lay hold of Him. He saved me when I was a boy, called me as a young man, and has sustained me for half a century. I have known Him as life and truth, grace and freedom, my Friend and my Lord.

My heart cries out with those who visited the empty tomb, "He is alive! Christ Jesus is alive!" Death did not destroy Him nor could the grave hold Him back. He has already secured the victory over everything that stands in my way. Nothing on the earth, under the earth, or above the earth has the power to stop me from serving my Lord.

Jesus, what a humbling experience it is to be one of the sheep of Your fold. I hear Your voice and am convinced that You hear my prayers. Following You as the Good Shepherd leads me in the path of righteousness and restores my soul. You have promised never to leave me, never forsake me, and NEVER to cast me away as an orphan. Therefore, I shall never thirst, never want, and never fear as long as You are with me.

I believe You still walk beside me each day. You are the Light who opens my eyes, the Door to eternal life, the Word who instructs, the Bread that nourishes, and the Resurrected One who awaits my arrival in glory. You will forever reign as the Alpha and Omega, the First and Last, the Beginning and End of all things. Oh, how my soul longs for Your return!

I have found You to be closer than a brother. You have loved me like a child and are faithful to chasten me when I stray. Had I never met You, there would be such an emptiness inside that I would be desperate to fill the void. I would travel down any path, walk through every door, and search every room until I found You—the incomparable King of kings and Lord of lords. You are worth the journey, for there is none like You in all the earth.

I believe You still perform miracles through my faith. Even though my faith may be as small as the tiniest seed, You've promised that this is more than enough to move the highest mountain. Lord, I see many peaks on the horizon. To be honest, some of them cause me to tremble. So hold me and carry me. Mold me and shape me. Let me be more than a conqueror, and I'll sing of your love before the nations.

May this be your spiritual Bio as well!