Who Killed My Church?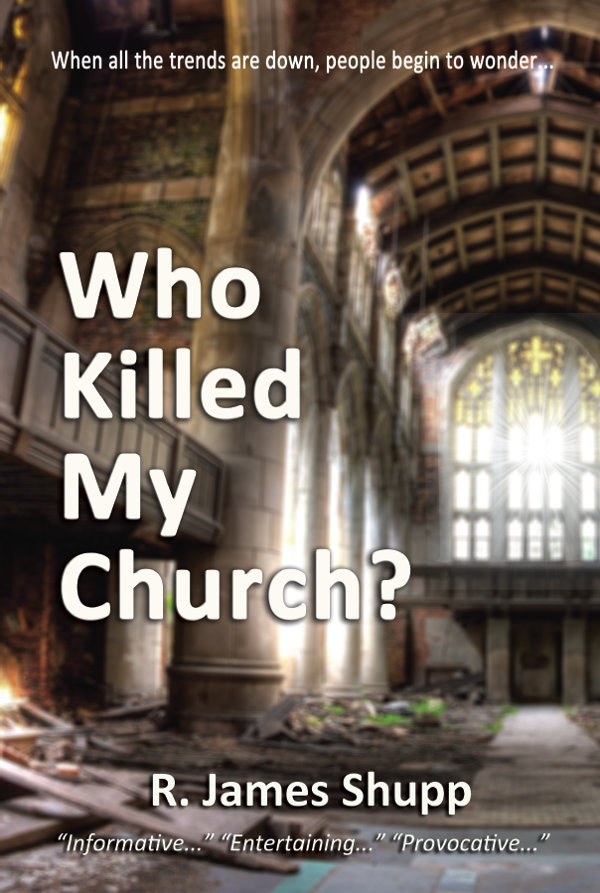 "Entertaining…" "Informative…" "Provocative…"
Green Street Baptist Church has fallen on hard times. Members are leaving, the banker is knocking on the door and everyone wants to know, "Who killed my church?" It's the same question people are asking all across America as church after church enters the struggle for survival. When all the trends are down, is there any hope?
Who Killed My Church? is a simple story about some gutsy people who believe that the bride of Christ is worth fighting for. They don't mince words. Their ideas are highly unconventional. Some believe that their plans are too risky, even leaning on the side of crazy. But when there's nothing left to lose, why not take a shot at winning?
Follow Pete, Monica, Markus, Bender and the rest of Green Street on an emotional journey into a very familiar environment. Though they exist in a fictional realm, you may be convinced that you've seen these characters walking the hallways of your own church. One might even look like you. Follow them as they race against a ticking clock to save what matters most to the heart of God.

Purchase through Amazon
.
First 5 Chapters, click here.
Watch the video.


ENDORSEMENTS
James Shupp delivers a very compelling story with playful humor, intellectual insights, and spiritual discernment.

Dr. Gary A. Demers, CEO
NotableWriters.com


---
As a Senior Pastor and avid reader, I digest many books about the Church, her health and growth. Rarely do I find a book that touches me as deeply as did Who Killed My Church? I cannot remember the last time I was "moved" emotionally, practically, and spiritually as much as this book did. Almost every page struck a chord (not just a note, a full chord) in my heart. I wept at its truth, rejoiced at its victories, and desire to grow from its influence. In a culture where 80 percent or more of churches are stagnant or dying, this book is a must read for every pastor, staff member, leader, and Christ-follower. Without reservation, this may well be the most practical and helpful book you read this year!

Dr. Jerry N. Watts, Senior Pastor
Hueytown, AL


---
An absolute must read! Powerful, captivating, inspirational, but also very helpful, practical, and informational. Every pastor, church leader, church member, and anyone who desires to make an impact for the Kingdom of God should read this book. God has really given James keen insight about the current challenges every local church faces. Loved it and plan to have my entire staff read it!

Dr. Kevin Hamm, Senior Pastor
Gardendale's First Baptist Church, Gardendale, AL


---
Having pastored the same church for twenty years, I've seen many phases of church ministry. Until now, no one has explained the process better than James Shupp in his book Who Killed My Church? Once I started reading this book, I could not put it down. Way too many pastors use false sensors to determine growth or success as a pastor. This book forced me as a pastor to stop using those sensors and look deep inside at what I called "church." I also had every pastor on my staff read the book.

The result was a launching of ministries into our community that has expanded our church like never before. We felt successful in our own eyes; however, this book opened all our eyes to what could happen if we continued doing what we had always done.

Dr. Michael D. Miles, Sr.
Senior Pastor, Azle, Texas


---
I loved hearing your passion in ministry come through the characters. You were always a dynamite communicator and that is proven once again through your writing. I, as a staff wife, was so encouraged as I fell in love with Monica and her heart to listen to the Holy Spirit and follow Jesus.

Through the lives of the characters, I was reminded of God's promise for me as I walk in this church life with my husband. I was encouraged to fight for more in our current church environment, and continue to pray for a broken heart over God's people, and a renewed spirit to be the hands and feet of Jesus! I plan to pass the book on to some other ministry wife friends!!! Thank you again, friend, for being obedient to God's plan!

Heather Keizer
Pastor's Wife


---
Who Killed My Church? is a delightful read that every pastor or church member will love. The author writes from his experience as a pastor, but what makes the book stand out is his storytelling ability and character development. Whether a pastor or church member, you'll recognize the unique personalities as if Shupp attended your church. The difficulties and frustrations of the pastor are real and relevant to almost every church. The honest and oftentimes humorous ways the story unfolds keeps you turning the pages.

Few authors can get across messages that inform and teach while entertaining also, but Shupp is able to do this, addressing problems in the church in a compelling but not heavy-handed way. I'd recommend Who Killed My Church? for anyone that enjoys a great story, but especially for church leaders who deal with difficult people and issues.

John Walters, Director
The Missional Association


---
James has done a masterful job writing his book in story form. I found the pages educational, encouraging, and entertaining all at the same time. Many pastors will believe James is writing about their church. If you are a pastor or lay leader of a declining church, I believe this book will help you discern where your church is in its lifecycle. It will stir your imagination for what could be for your congregation and community, and help you design and develop a course of action to reverse the decline of your church. As a ministry coach, I highly recommend every pastor read this book from cover to cover. The ideas contained within will energize the future of your ministry.

Marshall Shannon,
Ministry Coach


---
Who Killed My Church? is an exceptional novel that I expect will have tremendous impact on churches, not only in America, but worldwide. Author and Pastor James Shupp does a masterful job of developing characters and storyline, interspersing humor between the characters that caused me to occasionally laugh out loud. This book is a thoroughly enjoyable read, all while presenting a brilliant way to evaluate and restructure "the way we do church." Who Killed My Church? has the potential of revitalizing dying churches everywhere and rescuing the younger generation.

Entertaining, engaging, and highly informative, Who Killed My Church? should be required reading for the laity, giving them insight to the burdens and toll that church leaders experience, while mapping a way for laity and leadership to join in new efforts to make church relevant. If your church isn't growing, by definition it's dying. James Shupp offers wisdom and insight, complete with application questions. This book will reinvigorate you, your leaders, and church members to reach the lost for Christ.

Pamela Christian,
Radio and TV Host, Author, Speaker


---
James Shupp had me with those four words: movement, monument, museum, and morgue! His description of the actions taken in the various seasons of the life of a church clearly demonstrates his familiarity with church health issues. From being missional communities marked by vision, sacrifice, flexibility, and catalytic multiplication, to the cold hard Winter marked by contempt, decay, and frozenness, and everything in between, Shupp captures the challenges faced by pastors and church leaders of declining churches who desire to see their congregations revitalized and useful in the Kingdom.

With all the material being published today on "Church Revitalization," I urge you to consider adding Who Killed My Church? to the list.

Dr. Lonnie Wascom, Director of Missions and Ministries
Northshore Baptist Association, Hammond, LA


---
Who Killed My Church? by James Shupp entranced me. I was privileged to help edit the book, and as I did, I fell in love with Pete, Monica, and Marcus. I empathized with their care and concern for Green Street Baptist Church and was fascinated by the actions taken to turn the church around. Having been in churches that have reached the morgue stage in my past, I was also interested to see the techniques used. Shupp has written, very well, I might add, a wonderfully educational and entertaining book. The book should be read by all pastors—and by the laity as well. Five stars!

Deb Haggerty,
Author, Blogger, Freelance Editor, and Speaker
---
I read your book. It's simply phenomenal. I cried. I laughed. I was lifted to the mountain tops. I was pumped up. In your first book, you spoke about your vision, but in this book your vision came alive. I lived it. I felt it. I wanted it, and even though I already believed in the concepts, it made them real, and opened my eyes to new ways for me to look at and do life in God's kingdom. WOW!

Frank Vernon,
Marketing Director, Team Hope
---
Purchase through Amazon
.