John Walters' Blog Review, "Who Killed My Church?"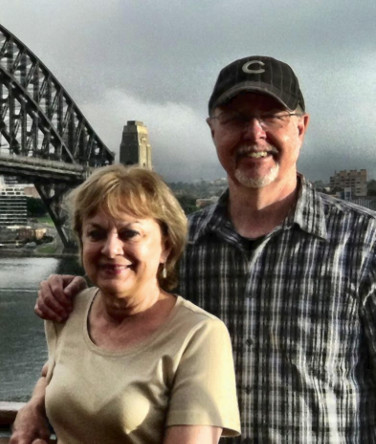 The life cycle of a church: Is your church a movement, monument, museum, or morgue?

James Shupp has recently published an interesting and informative novel, Who Killed My Church? about a dying church and its pastor's last efforts to turn it around. This is a fictional story yet you'll recognize the problems as the plight of hundreds of churches across the country. And Shupp writes from his own experience as a pastor of a once mega church trying to reclaim its glory and significance in the community.

With humor and great storytelling, Shupp takes the reader through the fictional Green Street Baptist's struggle to reclaim its purpose and mission. If you have been involved in a church for any time at all, you'll probably swear Shupp used members of your church as his characters and just changed their names.

In the story, the church hires a consultant to help the leadership come up with a plan to revive their church. Shupp lays out the seasons of a church, starting as a movement, slipping into a monument, then becoming a museum and finally dying at the morgue stage. As the consultant cleverly explains this to the leadership of Green Street Baptist,
All churches that began as a movement have a way of getting stuck in a moment. When this occurs, they transform into monuments that do little more than honor the past. Nostalgia can roll through a house of worship like a heat wave on a summer day. A church that collects too many of these monuments ultimately becomes a museum. There are pastors and staff all across America who feel more like curators of a museum than men and women of God with a fire in their bones. If this trend isn't reversed, these churches will ultimately become morgues. The frozen chosen are always the last ones to turn out the lights. Don't let this happen to you.
I've experienced the slow transition from movement to monument while on staff of churches and have coached churches that were in the museum stage. So I can attest that although the book is fictional, the story is relevant, compelling and inspirational.

Check out the chart from the back of the book. See if you can identify which season your church is in. If your church is a monument or museum can you return to being a movement? If so, how? See how it's done in this wonderful book, Who Killed My Church?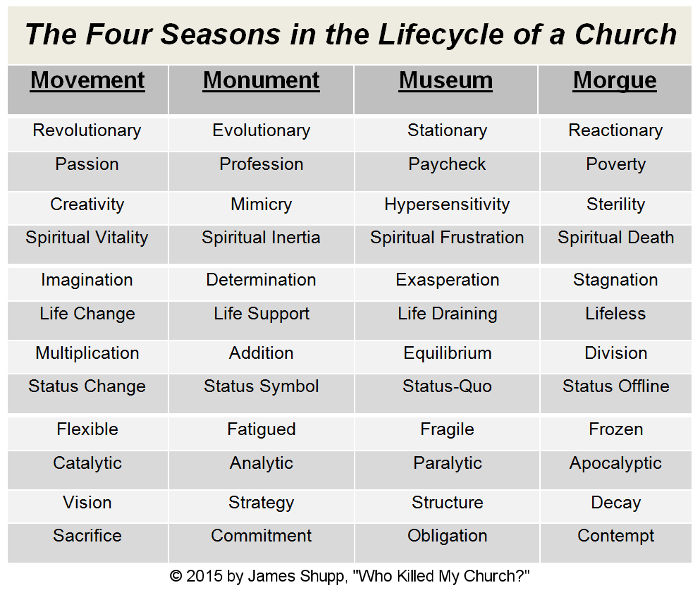 Visit John Walters' blog, It's Your Calling.
Trackback from your site.
james
R. James Shupp is an accidental author, pastor of the Movement Church of San Antonio, and CEO of BriarPatchConsulting.com. He specializes in helping churches thrive.